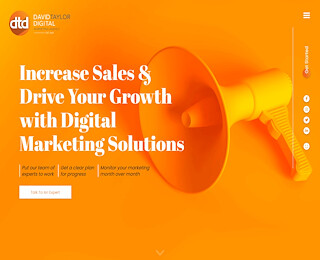 Not all digital marketing companies offer SEO for HVAC businesses; most provide a general search engine optimization service designed to provide the same ranking assistance to every type of business. If you're not satisfied with your current SEO plan or are looking for a marketing company that can offer you more than a run-of-the-mill experience, David Taylor Design invites you to spend a few minutes looking at our HVAC SEO plans.
5 Benefits of Outsourcing SEO to an HVAC SEO Specialist
1. It's easier to reach your target audience when your marketing efforts are pointed in the right direction. If you're tired of wasting money on digital marketing campaigns that dead end or cost far too much considering the results, consider how a dedicated HVAC social media manager can help you reach your goals. Schedule a consultation with SEO pros from David Taylor Design by calling 973-317-8765.
2. SEO for heating and air companies takes a lot of hard work. If you're using in-house resources to perform SEO duties, you're taking time away from growing your business. Our marketing experts at David Taylor Design can take the pressure off of you and allow you to do what you do best. Give us a call when you're ready to see a change in your bottom line.
3. As SEO specialists, we know what works to bring new customers to your website and build a solid reputation on the Web. Unless you work in the marketing industry, we are better equipped to tackle your SEO campaign. SEO is a highly technical service that requires insight and knowledge into the current trends, techniques, and above all, into Google's recent algorithm. We bring expertise to the table to ensure a successful campaign.
4. NJ HVAC SEO is in a league of its own; the typical digital marketing company won't be able to help you compete in your industry. If you need new leads, more customers, and more jobs coming in each month, our team can create a plan of action that will give you a reach into the local community that will make all the difference. Don't settle for anything less than the very best for your HVAC company- contact David Taylor Design today.
5. Did we mention the cost savings of working with our agency? Dollar for dollar, we can do more with your marketing budget than you can do alone. You have a choice:
Keep doing what you're doing and expect the same results
Hire our SEO for HVAC services and watch your monthly revenue increase
Once you see how quickly our services work to bring new customers to your door, you'll wonder what took you so long to outsource SEO to an expert. Don't wait- get started now by contacting David Taylor Design at 973-317-8765 to inquire about SEO for HVAC businesses like yours. Receive a free quote for comparison for your customized digital marketing, writing, and strategic messaging needs- we are the best in the business according to our clients.
David Taylor Design
+1 973-317-8765
156 Carteret Street
Glen Ridge
NJ
07028
US